Old-fashioned paper documents that can be easily damaged or forged are history. As a modern high-security printer, the Austrian State Printing House (OeSD) produces driver's licenses in a practical card format on durable polycarbonate.
Additional security features, such as security color effects, tactile elements with microprinting or tilt images make forgery extremely difficult. The personalization of this modern ID card is carried out according to strict precautions in the high-security room of the Austrian State Printing House. With these features, personal identity is secured even in the mobile world.
The Austrian driver's license in credit card format
Since March 1, 2006, only driver's licenses in the handy credit card format have been issued in Austria. The new driving license meets all the basic requirements of the European Union. Front of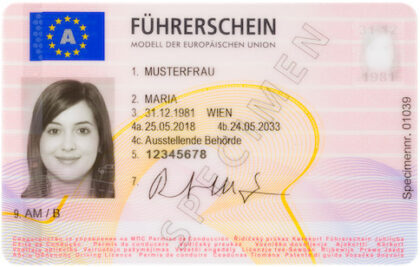 driver's licenseAdditional Austrian security features, such as the security color effect, surface structure with microprinting and the tilt image, make forgery virtually impossible. Laser engraving technology is used to personalize the driving license blanks. The company offers the driver's license in credit card format as part of its e-government by OeSD solutions.
Since January 21, 2013, new driver's licenses in Austria have only been issued for a limited period of 15 years in accordance with the EU Directive. Driving license back page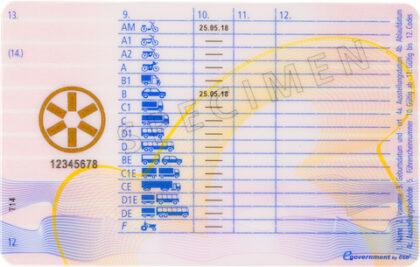 Parallel to the introduction of the time limit, the Austrian State Printing House developed a new design for the Austrian driver's license with new innovative security features.
Information
You can find more infos on the Austrian driver's licence at
www.fs-info.at
(german only)!