In April there are two innovations in the Austrian passport family: the emergency passport has a completely revised design including a new cover. The passport gets a new, additional security feature called "laser image perforation".
Emergency passport: Available in case of an emergency
If your personal passport or identity card is lost, stolen or can no longer be used, then the emergency passport will help out on important trips that cannot be postponed. The emergency passport can always be applied for as an emergency document if the period of time before the start of the trip is no longer sufficient to have a new passport issued or if the passport is only required for entry into the federal territory (e.g. because the passport was stolen abroad)
Emergency passport with a new design
The newly designed cover of the emergency pass has the word "Österreich" in Braille, making the pass more accessible for people with impaired vision. A simple overview of the new document, its security features and how to check them can be found on the website of the BMI's CHECK-AT service (www.check-at.gv.at). The new emergency passport will be valid from April 1st.
Additional security: New feature in the passport
A new Austrian passport will be introduced in 2023. A new security feature is already being used in the existing generation of passports: the laser image perforation.
The new security feature "laser image perforation" in detail
During personalization, the portrait image is "burned" into the data page of the passport by laser.
If the data page is viewed against the light, a contour-rich image of the portrait image becomes visible.
The perforation of the data side and security laminate further improves protection against counterfeiting.
The security feature can be easily verified by viewing the data page against the light. In addition, no special instruments are required.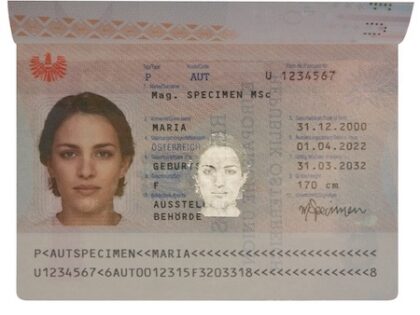 The new "laser image perforation" feature will be included in all newly issued  Austrian passports from April 1st, 2022.